Edward James Schollick, Ulverston Shipbuilder
Edward James Schollick, Ulverston Shipbuilder, 1825 - 1908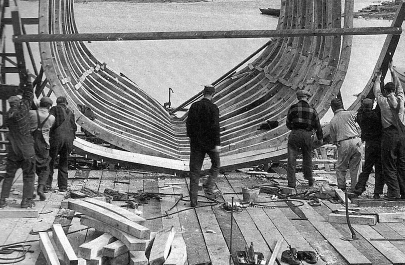 In Aldingham church, to the left of the altar is a stone commemorating the life of the Rev.John Stonard. He was born in Surrey in 1769, ordained 1794, became rector of Aldingham in 1814 and died in 1849. The Rev.Stonard was a wealthy man, he was building Aldingham Hall when he died, a place that would have been fit for an ironmaster, if ironmasters had better taste. He had a reputation for charity and scholarship, having published several books on theology and spent money freely on his church. In the last year of his life, he was awarded the North Lonsdale Agricultural Society's prize for the best field of mangold wurzels, (again), he was painted in oils by Edward J.Schollick, and he saw EJS married to Margaret Jackson of Waterhead, Ambleside.
The story goes that the butler, Edward Jones Schollick had saved his master's life when they were out on the sands, but in the court case of 1861, EJS said that he was adopted by John Stonard. The estate passed to E.J.Schollick, then aged 24. The estate included Aldingham Hall, land at Scales, Newbiggin and at North Scale on Walney. The Scales estate was rough grazing on the edge of Birkrigg Common. It included a limestone quarry, which was leased to the Commissioners of Woods and Forests from 1869 to 1902.
EJS subscribed to every public appeal in the next decade. His name appears below the Dukes, Ainslies and Wadhams and above the rest. The contributions include the Hoad monument, Walney church, Pennington parsonage, Lindal school and many more, but that did not prevent him from falling out with the churchwardens. He wanted five pews in Aldingham church, to see that his household was all present, but the churchwardens would only allow him three pews, seating eighteen. EJS took it to Carlisle court and lost.
Soulby's Ulverston Advertiser reported a burglary in January 1851:
"…a small detached room at Tarn Cottage, Urswick, the residence of E J Schollick esq was burgulariously entered and a quantity of fine apples taken away. It is supposed that the thieves had been attracted to the premises in the hope of obtaining something better than apples. Mr Schollick had slaughtered two pigs the previous day…".
In June, Tarn Cottage was up for sale. The butler, artist and butcher had moved into Aldingham Hall.
In February 1851, Samuel Schollick, relationship unknown, began shipbuilding at Greenodd in a shipyard previously owned by the Ashburners. The first, perhaps the only vessel from the yard was the Edward and Margaret, a 90 ton schooner, delivered to EJS the same year. 8 shares were sold, EJS held on to the other 56. Samuel Schollick opened a second shipyard at Canal Foot, Ulverston, in partnership with E.J.Schollick. Thrifty, a 45 ton schooner, was launched on August 3rd 1854. When EJS advertised that a few shares in the Thrifty were still available, he was not telling the whole truth. 8 shares had been sold, and they went to her master, William Tyson. Mr.Schollick sold his 56 shares to William Blaycock in 1859 and the ship was lost with all hands on the Liverpool Banks in November 1861.
The partners fell out in 1855. Edward paid Samuel £200 and advertised that the Canal Foot shipyard was now under his sole control. Bills signed by Samuel Schollick would not be paid, and the yard was to be sold, along with the unfinished schooner. That did not happen. Instead, Mr.Schollick employed John Wilson as foreman shipbuilder and set about building himself a small fleet. Mr.Schollick had eleven children. They all had the middle name of Stonard and the first six had ships named for them. The yard turned out eight vessels under his ownership:
John Stonard, an 86 ton schooner in 1856.
Edward Stonard, a 97 ton schooner in 1857.
William Stonard, a 109 ton schooner in 1858.
James Stonard, a 146 ton brigantine in 1859.
Alfred Stonard, a 159 ton brigantine in 1860.
Frederick Stonard, a 123 ton schooner in 1861.
Ulverston, a 61 ton schooner in August 1862. The only vessel built for other owners, the Ulverston survived until 1926.
Margaret, a 124 ton schooner in November 1862, she was named for Mrs Wilson. John Wilson was now the yard manager and about to buy the shipyard. 32 shares in the Margaret were sold.
After the Margaret, the yard was sold, and remained in use until 1870. Edward Stonard bought 16 shares in the next vessel, Annie Ripley, a 205 ton brigantine and that holding continued after 1875 when James Fisher became managing owner. The Annie Ripley was wrecked in 1881.
Until the loss of the Alfred Stonard, EJS still owned 7½ ships. The Alfred Stonard left Cardiff on 3rd January 1867 with a cargo of small coal. She was not seen again. E.J.Schollick sold his fleet soon afterwards. The Frederick Stonard was sold to Thomas Morgan of Cardiff in March 1870. She was abandoned at sea in 1890. John Wignall of Fleetwood bought the William Stonard in August 1871 followed by the James Stonard in January 1872 and the Edward Stonard in February 1872. The William Stonard was wrecked in 1889 and the James Stonard in 1890. The John Stonard and E.J.Schollick's half of the Margaret were sold to William Postlethwaite of Barrow in 1871. The Margaret was wrecked in 1871. John Stonard was sold again in 1888 and wrecked in 1893.
Edward Schollick was not entirely concerned with shipowning during this period. The services of his pedigree bull, Cambridge Barrington 1st were advertised at a guinea a time, and he backed the wrong horse in the iron industry. The Low Furness Iron and Steel Co Ltd was set up in April 1857 to expand and modernise James Davis's ironworks at Canal Head. E.J.Schollick was a director, but the company was short-lived. They stopped advertising their iron and brass castings the following year.
After shipbuilding, shipowning, and ironworking, EJS turned to mining. The Mineral Statistics records Scales mine, owned and managed by E.J.Schollick in 1872 and 1873. No ore was produced, but Aldingham mine, owned by the Aldingham Iron Ore Co produced 400 tons in 1873, and filed an abandonment plan in August 1874. The rest is speculation. The dates suggest that Aldingham mine and Scales mine are the same. EJS might have built the enginehouse and headframe and sold out in 1873, or he might have been a partner in the Aldingham Mining Co. Either way, the engine house has survived as a barn for 130 years after its brief working life.
Edward Jones Schollick emigrated to Australia about 1876 and died at South Yarra on 10th April 1908 at the age of 83.