Lancaster Sailing Ships
Lancaster Sailing Ships
The schooner Anna was built at Glasson Dock in 1839. Her registry was transferred from Greenock to Dumfries in 1846, at which time she was commanded by Capt.Edward Grierson and was owned by William Turner, of Dumfries, and William Irving, of Maxwelltown. The Anna foundered in February 1855.
Name: AnnaYear Built: 1839Gross Tons: 28Length (feet): 45.6Breadth (feet): 12.2Depth (feet): 6.2Masts: 2Figurehead: BilletStern: Square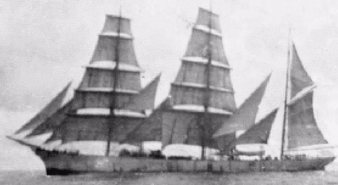 The Annie Fletcher was an iron barque built in March 1868 by the Lune Shipbuilding Company at Lancaster. Originally named Gressingham, by 1885 her name had been changed and she was registered in Liverpool and was owned by A. Rae & others (1887) and by J. & J. Rae & Co. from 1891-4. Her masters were Captain Thorburn (1885-87), Captain M. Grierson (1891) and Captain M.F. Thomson (1894).
Name: Annie FletcherYear Built: 1868Gross Tons: 503Length (feet): 158.0Breadth (feet): 26.2Depth (feet): 16.9Masts: 3
The Carrie Bell was built at Matthew Simpson's Glasson Dock shipyard in Lancaster and was bought new in 1862 by the Barrow shipowner Samuel Jervis. She was one of four new ships bought that year as Jervis began to build up a small fleet. She participated in the trade in copper ore from the Guadiana River ports, and in June 1865 she arrived in Pomaron on the same day as the Lord Muncaster, whilst departing Furness schooners included Fanny Slater, Lancashire Witch, William Stonard and Gauntlet. In 1871 Capt. Hugh Reason was her commander. In Lloyd's Register for 1887-88 her master is named as Captain McFaull, appointed to the Shipping Line and to the vessel in 1885. The Carrie Bell had a long career. She survived the storm in December 1909 that caused the loss of the Maggie Brocklebank. The Carrie Bell herself was lost on the 25th November 1917, 3/4 mile SE of Holyhead breakwater, carrying china clay from Padstow to Preston. At the time she was owned by J. Barrow of Lancaster.
Name: Carrie BellYear Built: 1862Gross Tons: 121Length (feet): 95.3Breadth (feet): 21.4Depth (feet): 11.3Masts: 2Figurehead: Female
TEThe Dairy Maid was a schooner built to Special Survey at Matthew Simpson's shipyard at Glasson Dock, Lancaster in March 1867. Like several of Simpson's other schooners, she entered the fleet of E.Porter and Co. of Fleetwood. Still owned by Porter & Co., the Dairy Maid sailed from Runcorn on the 27th November 1893, under the command of Capt.Joseph Tildsley and with 180 tons of salt for ballast. She was kept windbound at Liverpool until the 5th December, when she was able to clear the estuary and make passage towards her destination, Irvine. Unable to clear the Calf of Man due to a SW gale, Capt.Tildsley ran for the refuge of Ramsey Bay, where he anchored at 6.00 pm on the 6th December. Over the next three days the Dairy Maid endured increasing wind and lost first her starboard anchor, then, at 2.00 pm on the 10th December, her port anchor. Capt.Tildsley ran the schooner under jib sail onto a sandy beach one mile N of of the Dog Mills at Shellag Point. The four crew were rescued by the Rocket Brigade, and the schooner was later towed to Ramsey harbour for disposal.
Name: Dairy MaidYear Built: 1867Gross Tons: 165Length (feet): 101.6Breadth (feet): 22.5Depth (feet): 11.5Masts: 2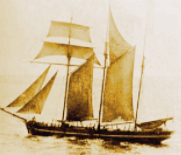 The Englishman was built by Matthew Simpson at Glasson Dock in September 1864. She was originally a two-masted schooner that sailed in deepwater trades in her early years, but then gravitated into the coasting trades. She had a long career that lasted until 1933. She eventually had a third mast added to her. Lloyds Register 1887 gives her master's name as Capt. J.Green and states that she was built using 8 and 12 year old timber, and had repairs to damages in 1869 and 1876. During the First World War the Englishman was shelled by a U-boat on the 16th December1916, north of the Isles of Scillies but was rescued. Presumably the Royal Navy arrived and the U-boat dived.
Name: EnglishmanYear Built: 1864Gross Tons: 144Length (feet): 94.0Breadth (feet): 22.7Depth (feet): 11.2Masts: 2 (later 3)
The James & Mary was a schooner built at Matthew Simpson's shipyard at Glasson Dock, Lancaster in 1867. Like several of Simpson's other schooners, she entered the fleet of E.Porter and Co. of Fleetwood. The James & Mary was stranded and lost in SW Force 11 storm at Birkdale, Southport on the 22nd December 1894. She was on passage from Par to Runcorn with a cargo of china clay, under the command of Capt.T.Williams and with four other crewmen aboard.
Name: James & MaryYear Built: 1867Gross Tons: 121Masts: 2
The Meredith was a full-rigged ship built at Lancaster in 1825 for Lockerby & Co. Registered at Liverpool, she operated in the trade to India, and was wrecked at Hokianga River, New Zealand on the 13th July 1832. The wreck was plundered by Maoris. Source 1 reports that the boatswain drowned, but Source 2 reports that the crew survived.
Name: MeredithYear Built: 1825Gross Tons: 278Masts: 3
The Paragon was a brig built at Lancaster in February in 1824. She was wrecked on the coast of Wexford on the 20th February 1838, bound from Liverpool for Pernambuco under the command of Capt.J.Watt. At the time of her loss she was owned by Smith & Co. and was registered at Maryport. Another brig named Paragon was registered at Maryport from 1829.
Name: ParagonYear Built: 1824Gross Tons: 257Masts: 2
The Red Rose was reportedly the last vessel built by Matthew Simpson at his Glasson Dock shipyard, before it came under the management of Nicholson & Marsh. She was a three-masted schooner launched in 1879. Like many other vessels built by Simpson (Lancashire Lad, Dairy Maid, Saxon Maid, William Shepherd, James & Mary, Lord Howe, Result), she was owned by Edmund Porter of Fleetwood, and was registered at that port. In 1905 she was sold to an owner at Dumfries.
Name: Red RoseYear Built: 1879Masts: 3