Geltwood
Geltwood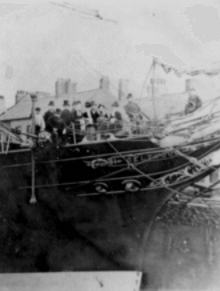 The Geltwood was an iron barque built at the R.Williamson & Sons shipyard at Harrington in January 1876. She was owned by John Sprott of Harrington and was registered at Workington. She was reputedly a sister ship of the Mallsgate and Inglewood. Like the Mallsgate, the Geltwood was wrecked on a reef off the Australian coast.
For her maiden voyage the Geltwood loaded a general cargo valued at £18,400 at Liverpool, destined for Melbourne. Under the command of Captain F.F.Harrington she departed the Mersey on the 23rd March 1876, though bad weather soon forced her to shelter at Holyhead for two days. It appears that the master had his wife and daughter aboard, though accounts vary as to the number of crew and other passengers.
In a near hurricane the Geltwood struck a reef 12 miles South of Rivioli Bay, South Australia, on the 14th June 1876. Distress signals were reported, but there was no rescue and all aboard, about 30 people, were drowned as the vessel capsized. The wreck was not reported to the police for two weeks, and in that time a number of people stole equipment and belongings that were washed ashore. Among the debris was one body, three boats (one inscribed with "Geltwood, Workington"), dead livestock and some sea chests.
The wreck was subsequently sold to salvagers and divers recovered some of the cargo in 1877. The wreck is now protected and artefacts have been recovered. The anchor of the Geltwood was recovered in 1984 and is now displayed at the National Trust Museum, Millicent, South Australia.